Price list for brand recognition services
STT
SẢN PHẨM
ĐƠN VỊ TÍNH
GÓI A
GÓI B
GÓI C
GÓI D
GÓI E
1
Logo
Cái
500.000 đ
1.000.000 đ
3.000.000 đ
5.000.000 đ
10.000.000 đ
2
Namecard
Cái
300.000 đ
600.000 đ
700.000 đ
800.000 đ
1.000.000 đ
3
Đồng phục
Bộ (áo, quần, mũ,...)
500.000 đ
1.000.000 đ
1.200.000 đ
1.200.000 đ
1.500.000 đ
4
Tem nhãn
Cái
200.000 đ
400.000 đ
500.000 đ
800.000 đ
1.000.000 đ
5
Tờ rơi
Trang
300.000 đ
400.000 đ
500.000 đ
600.000 đ
800.000 đ
6
Menu
Trang
300.000 đ
400.000 đ
500.000 đ
600.000 đ
800.000 đ
7
Bảng hiệu
Cái
300.000 đ
600.000 đ
1.000.000 đ
1.200.000 đ
1.500.000 đ
8
Bảng tên
Cái
100.000 đ
200.000 đ
500.000 đ
600.000 đ
800.000 đ
9
Poster
Cái
300.000 đ
600.000 đ
1.000.000 đ
1.200.000 đ
1.500.000 đ
10
Tài liệu
Bộ (Phong bì, bút,...)
500.000 đ
500.000 đ
1.000.000 đ
1.200.000 đ
1.500.000 đ
11
Banner
Cái
300.000 đ
600.000 đ
400.000 đ
500.000 đ
600.000 đ
12
Catolouge
Trang
200.000 đ
300.000 đ
500.000 đ
600.000 đ
800.000 đ
13
2 trang bìa mặt trước và mặt sau Catolouge
Trang
300.000 đ
400.000 đ
500.000 đ
600.000 đ
700.000 đ
14
Brochure
Trang
300.000 đ
400.000 đ
500.000 đ
600.000 đ
700.000 đ
Tổng
Gói
4.400.000 đ
7.400.000 đ
11.800.000 đ
15.500.000 đ
23.200.000 đ
Phương án
Mẫu
1
2
3
3
3
Thời gian thực hiện
Ngày
5
7
10
12
14
Chỉnh sửa (từ lần chỉnh sửa thứ 4 100.000/ lần sửa)
Lần
3
3
3
3
3
The identification process of a brand plays an increasingly important and decisive role in the development of a business. So what is brand identity design? How does this work help businesses? Let's learn about this issue with VIO right now.
What is brand identity design?
What is brand identity design? brand identity design It is about building an image of your business in the minds of your customers. It is an important factor for customers to know and decide to buy a product. The brand identity set includes elements of logo, color, slogan, … This is considered an image to represent the brand to customers. In addition, they also bring great uses such as:
Increasing the professionalism of the brand in the hearts of customers.

Impress and create hearts when customers choose to buy products.

Attracts curiosity, attention for people who intend to buy.

Increase brand awareness with wider coverage.

Although I have never used the brand's products, but if the business knows how to let customers know about it. Not only reminding them but also stimulating the customer's buying decision process.

Always update trends to meet user needs.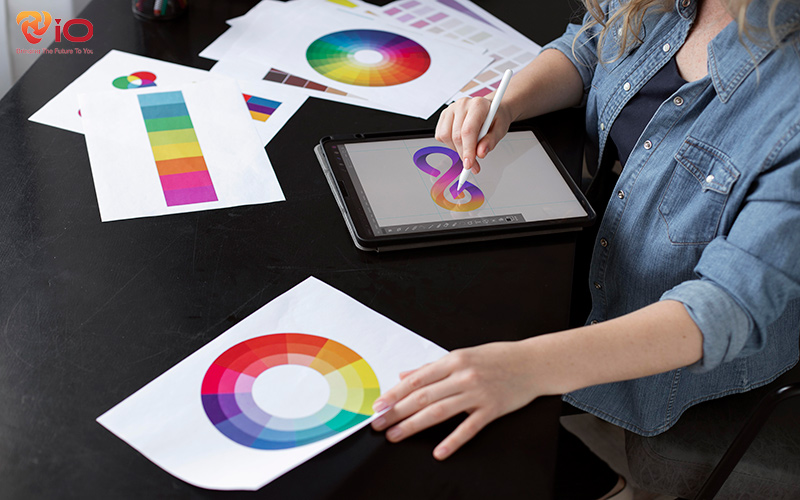 What does a brand identity design include?
Office brand identity
Logo: A beautiful brand identity will include different criteria. Logo is one of the important details to help identify the brand easily. The logo of every brand in the market will not be the same. It is the exclusivity that each brand creates in building its image.
Color: Many brands choose a single dominant color tone for their products. So that when customers look at it, they will immediately think of your brand.
Slogan: The shorter, more concise the slogan, the more successful the customer insights will be. The content in a slogan often expresses the motto, culture or benefits and values ​​of the brand. Contributing to creating unique and outstanding for your products/services.
Product brand identity
Currently brand identity templates are extremely diverse. For the product brand identity, it will include elements such as: packaging, stickers, warranty card…
The packaging decides not to factor into the user's product selection. Especially when they are displayed in supermarkets, convenience stores… Depending on the product, it will be designed with different packaging images. If the product is aimed at young people, usually the details are dynamic and quite prominent. To stimulate the buying process of customers.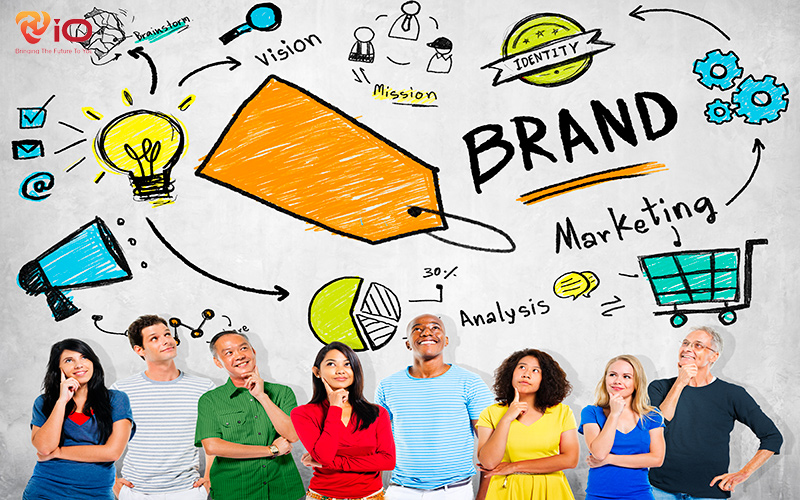 Marketing brand identity
When looking to companies that design brand identity systems, customers will be provided with a full range of contract templates. In marketing, the identity set includes criteria for brochures, websites, catalogs, videos, profiles, flyers, etc. To spread the message to customers more easily.
In today's technology era, promoting products through channels and social networks will attract a large number of customers. Especially image and sound are two important factors when choosing an online brand identity design channel to reach customers.
The best brand identities aren't always bright and colorful. But they also have to meet the standards of shape, style and stand out from other competitors in the market.
Outdoor branding
Each brand identity design service will have a different quote. Full set of brand identity including: company signs, office signs, banners, advertising boards…
Brand identity design is becoming more and more important and necessary for most businesses. This helps businesses assert "who am I?" while on the market.
Why should businesses design a brand identity?
Helps identify products easily
A good brand identity design business will make an impression on customers. When there is a need to buy products, they will think of you because of the information you have created to remind customers. Compared to a brand that has never been heard of, customers will have more trust in the product they know more about.
Enhance value
In Da Nang or any city. When building a successful brand image, it will contribute to enhancing the value and professionalism of the brand. In today's fierce competition, if not create a foothold in the hearts of customers. It is very difficult for businesses to survive and thrive in the market.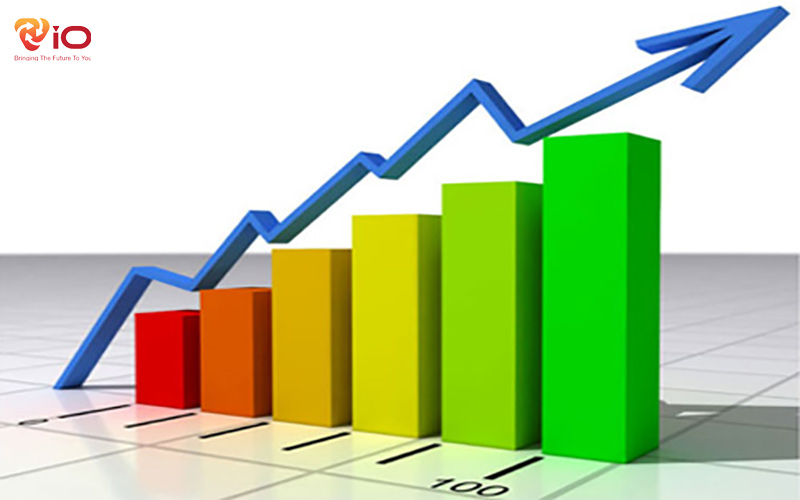 Create a competitive advantage
Another reason businesses need to design a brand identity is to help them create a competitive advantage. This will greatly help with sales strategies.
How much does a brand identity design cost? The price list will be presented in detail by the design services. Especially coming to VIO, these issues become easier and extremely fast.
brand identity design service at VIO
VIO Agency is a company that specializes in providing online sales solutions through the website. With a team of professional and experienced designers, we will help you plan your online strategies in detail. The fashion brand identity or marketing, office … will be brought by VIO with diverse templates and suitable for your business form.
With the motto of bringing a new perspective on the 4.0 technology platform. Our company doesn't stop survey a>, receiving customer opinions of many businesses. To help them build a true brand image, approaching current trends.
If you are looking for cheap brand identity design services, increase sales. Please contact us immediately for a dedicated consultation.
VIO CO., LTD
Address: No. 41 Street 12 KDC CityLand Park Hills, Ward 10, Go Vap District, HCMC

Phone: 0899164707

Email: info@vioagency.vn